Send Inquiry
Most Sufficient Basket Mill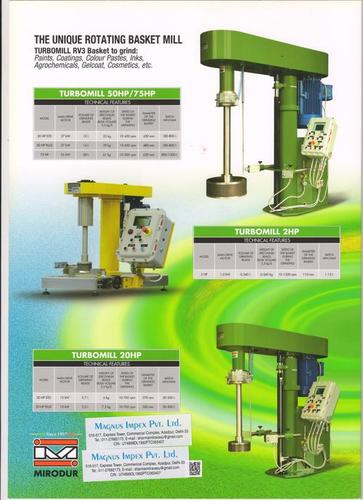 Most Sufficient Basket Mill
Product Code : 08
Brand Name : Turbo Mill
• • This because SBM can't use centrifugal force, therefore itworks like a traditional sandmill even if it is immersed in a tank.
• SBMinstead are impossible to get completely clean. Their cleaning is effected onlypartially and moreover using very big quantities of solvent which, at the endof the year have to be drained in some way, generating an increase in costs.Normally SBM, due to the difficulties in cleaning, are dedicated to only onecolor like sandmills are. With Turbomill, instead, it's possible to changecolor completely, and the amount of solvent used for the cleaning is so smallthat it can be recycled in production without any increase in costs.
• beads batch. Each charge of beadswith Turbomill costs approximately € 1440 less (standard basket) and € 1230less (Plus basket) than SBM (beads cost about 30 €/kg).
• • Viscosity: Turbomill basket, being fed from the bottom likean immersed pump, grinds easily high viscosity products (103.000 cP), thereforehigh pigment concentrations. This allows it to don't incorporate air in theproduct.
SBM basket, being fed from the top, hasn't enough power toforce high viscous products, moreover the feeding from the top causes airincorporation in the product. Therefore Turbomill has a greater productivityalso because it grinds more concentrated products.